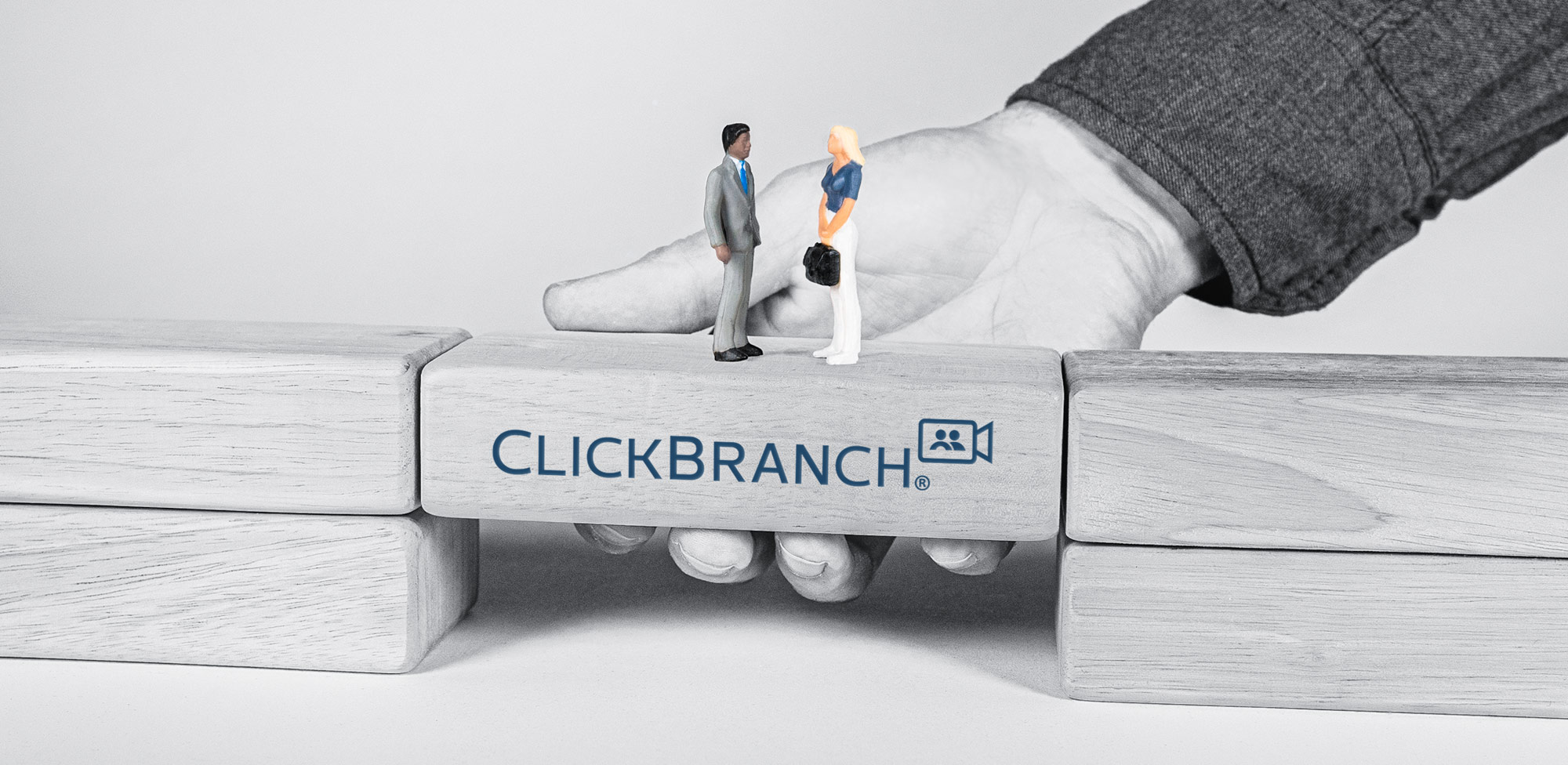 Strengthen your connection with customers
even as they disconnect from the physical branch.
This is video banking tailored to the way your institution does business and how customers want to interact with you. ClickBranch bridges any physical distance, delivering the knowledge, intimacy and expertise that creates trust, builds relationships and grows assets.
DIRECT VIDEO
BANKING CONNECTION

Your account holders and prospects can choose who they see and speak with from wherever they are. Specific staff member not available? Callers can send an email and/or get notification of availability with the click of a button.

Security

For more than 40 years, BVS — with servers housed only within the continental United States — has provided secure services to U.S. financial institutions. Our in-house technology department headed by a certified CISO ensures that security is always Priority #1.
Here's How You Know ClickBranch is the Solution
1
Your customers get to go to the branch without going to the branch.
One click and they can connect with bank staff of their choosing. Just like walking up to their desk — only this is quicker and more convenient.
2
Your customers can access expertise when they need it.
Consumers enjoy more immediate access to financial specialists whether they are in the branch, in their home or office, or just about anywhere from their smart phone or PC.
3
Video connections are no longer a 'nice to have.' They're a necessity.
In today's world, video-based connections are keeping important relationships together when physically getting together isn't a possibility — or convenient. Face-to-face contact helps you maintain (and grow) your reputation as a trusted advisor.
4
You can share screens securely when business needs to be conducted
now
.
Opening an account or applying for a loan couldn't be easier or safer. Simply bring up the document on your computer and your customers can see exactly what you're working on and contribute any necessary information. Just-in-time service.
5
With ClickBranch, your staff is a click away from 'in person' meetings with colleagues across the office or across the country.
No matter the location of their workplace, employees will feel connected.
6
We know that your plate is already full — so we're pretty sure you'll appreciate ClickBranch's uncomplicated implementation.
Tell us what you want and we'll do the work.
7
You'll enjoy a trusted vendor relationship when experience, reputation and service matter.
BVS has a 40-year heritage of focus on and service to the financial services industry. We are large enough to help you, yet small enough to hear you.
8
Risk averse?
Take advantage of our 90-day money back guarantee. Enough said.
Want to Know More?

Contact us on ClickBranch

Call 800.553.5972

Email

BVS Performance Solutions
4060 Glass Rd. N.E.
Cedar Rapids, Iowa 52402

Success

Thank you for contacting BVS Performance Solutions, your message has been received and we will be in touch with you shortly.